Royal Mail Hotel loves to celebrate the very nature it sits amongst, bringing it indoors and closer where ever possible. The artwork added to the Deluxe Mountain View rooms, by artist Jo Murphy, perfectly capture the native flora and fauna we cherish.
Jo Murphy is a Melbourne-based illustrator with an eye for detail. Her steady hand and love for Australian wildlife merge to create wonderful illustrations that deserve a frame and pride of place on any wall.
Royal Mail Hotel is excited to showcase these pieces in our refurbished Deluxe Mountain View rooms and in the retail space.
Her pieces speak for themselves, but we asked Jo some questions about her process and inspirations.
Tell us about this series you're creating for Royal Mail Hotel. What is the inspiration?
After spending some time around Dunkeld, the hotel gardens and surrounding country, it felt right to focus on Aussie natives. I grew up in a small country town in the Riverina in New South Wales. I've always loved Australian wildlife and grew up very close to it. Rescue joeys and bluetongue lizards were commonplace throughout my childhood. Even now, living in the city, Melbourne is home to so many beautiful natives. I was so excited the first time I spotted a tawny frogmouth in Yarra Bend Park. I see them so often now. The natives I've chosen to illustrate are among my favourites and can be found around the Grampians and wider Victoria.
Talk us through your creative process. Where do you start?
Research! I spend a lot of time looking at references. Sometimes I have an idea from the outset, but often once I flood my mind with imagery I start to get a better feel for a concept/composition. From there I'll piece together an arrangement of imagery to reference. I love drawing anything rich with texture as the process is far more organic. Animals, food and plants are much more free-flowing than something like a portrait where photo real accuracy can become very tedious.
Your style is so technically correct. Where did you learn to draw?
As soon as I could elect to, I always chose subjects in art and later design, but I never really learnt to draw. From a very early age I've always just drawn. I guess it's a well-honed skill owed in part to a genuine love for it and also necessity as there wasn't a whole lot else to do growing up in the country. While no one taught me how to draw, the skill is certainly inherited from my dad's side. He's a carpenter and a very talented craftsman. He never worked professionally as a visual artist, but he can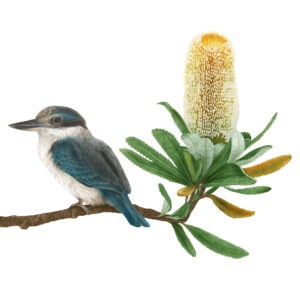 definitely draw.
Which animal has been your favourite to illustrate so far?
I love birds so much. I swear I'm a closeted twitcher. We have so many beautiful native birds in this country. The kingfisher is my favourite.
How much time does it take to finish an illustration, from concept to final product?
I always have so much trouble answering this. It really depends on the subject. After any initial research/concept development, the process is quite straightforward for me, I draw by hand with pencil and apply colour digitally. I'm totally avoiding giving a direct answer to this (haha). I can say with certainty that it always takes longer than you would think, but it never feels that long to me.
For more of her artwork, follow Jo on Instagram: @joannarose.m