Don't let winter scare you off! Gariwerd (the Grampians) in winter is at its most welcoming.

Venture to regional Victoria and leave the wind tunnels and busy public transport of the city behind. As you drive along the Western Highway, watch the fog roll over the hills and the skies open up into a beautiful crisp winter day. Winter has its own unique charms and regional Victoria is the best place to experience it.
Below are five reasons to pack a bag full of coats, beanies and mittens and head out west.
Sunrises and sunsets
There is nothing dreamier than a sunrise or sunset with a silhouette of mountains in the foreground. Watch as pinks, blues and purples take over the sky from your room at the Royal Mail Hotel.
If you're staying in a Deluxe Mountain View room, simply open your blinds and laze in bed while nature's television overtakes the mighty Wurgarri (Mount Sturgeon).
Booked a digital detox in the Mount Sturgeon Bluestone Cottages? Grab your breakfast hamper, but the kettle on and eat breakfast outside looking at the towering Wurgarri as the day emerges from behind.
Cascading waterfalls
Rain in regional Victoria is always a celebration. It's not only essential for flora and fauna and leaves a wonderful, fresh smell in the air, but it also makes the Gariwerd region's waterfalls flow.
Waterfalls in the south include Wannon and Nigretta Falls, located a 40-minute drive from the Royal Mail Hotel, via Hamilton. These waterfalls have viewing platforms overlooking the falls and plunge pool below.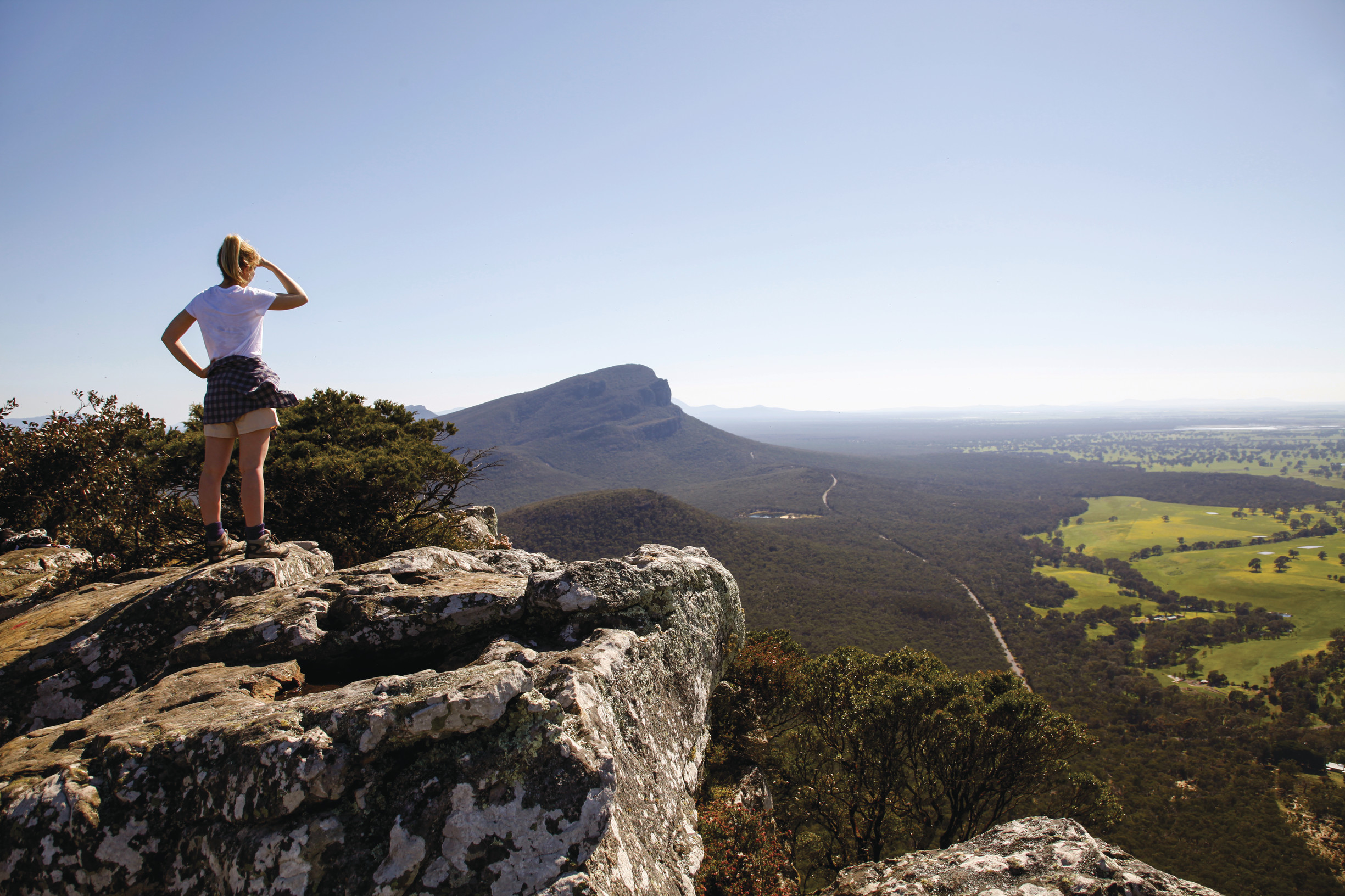 Great hiking weather
Fresh, crisp air, blossoming native vegetation and cooler temperatures are just a few reasons hiking in the Gariwerd in winter are a highlight. Wildlife is more typically on the move in winter as well, with kangaroos, wallabies and emus moving through the national park.
Hikes a short drive from the hotel include, Wurgarri (7km return), Mud-Dadjug (Mount Abrupt, 6.5km return) and Bainggug (Piccaninny, 2.4km return).
Cellar Doors
While you are out exploring the region, stop into one of the many cellar doors. The Henty wine region is known for its cool climate chardonnays, rieslings, semillons and sauvignon blancs.
A visit to Pierrepoint Wines will provide further insight into producing wine in the region. Pierrepoint's cellar door is open from 11am to 6pm.
Fireplaces & Red Wine
Round out the day sipping a glass of Gariwerd shiraz. Coupled with a hearty meal and an open fire place, it's hard to complain about the cold, wet weather outside when you have a good drop of red in hand.
Grab a seat in front of the Parker Street Project's fireplace and feel the warmth from the inside out.
Check out the Royal Mail Hotel packages to find your perfect winter escape.