As we've all sat in our homes, cooped up in isolation, it's left a lot of time for daydreaming. As the world returns to its new normal, Royal Mail Hotel is ready and waiting to turn those dreams into a reality.
The freedom of driving will have a whole new meaning. We'll feel 18-years-old again, taking off on our first independent drive, watching the house we've spent too much time in get smaller and smaller in our rear-view mirror. Windows down, music on, the feeling will be like no other.
Plug Dunkeld into the GPS and make the most of the drive out west. Here, Royal Mail Hotel, has crafted the perfect road trip from Melbourne to Dunkeld.
First stop is the historically beautiful town of Ballarat – a destination in its own right. This old gold mining town offers some fantastic cafes and restaurants, as well as a healthy dose of arts and culture.
Start with a coffee at Kittelty's, then head next door to Australia's oldest regional gallery, the Art Gallery of Ballarat. Showcasing a contemporary collection of paintings, sculpture and ceramics in a heritage-listed building, it's a great introduction to this lively city.
Now you've worked up an appetite, Forge Pizzeria provides a hearty food stop. Wood fired to perfection, with fresh local produce for pizza toppings, it's bound to fulfil your hunger needs.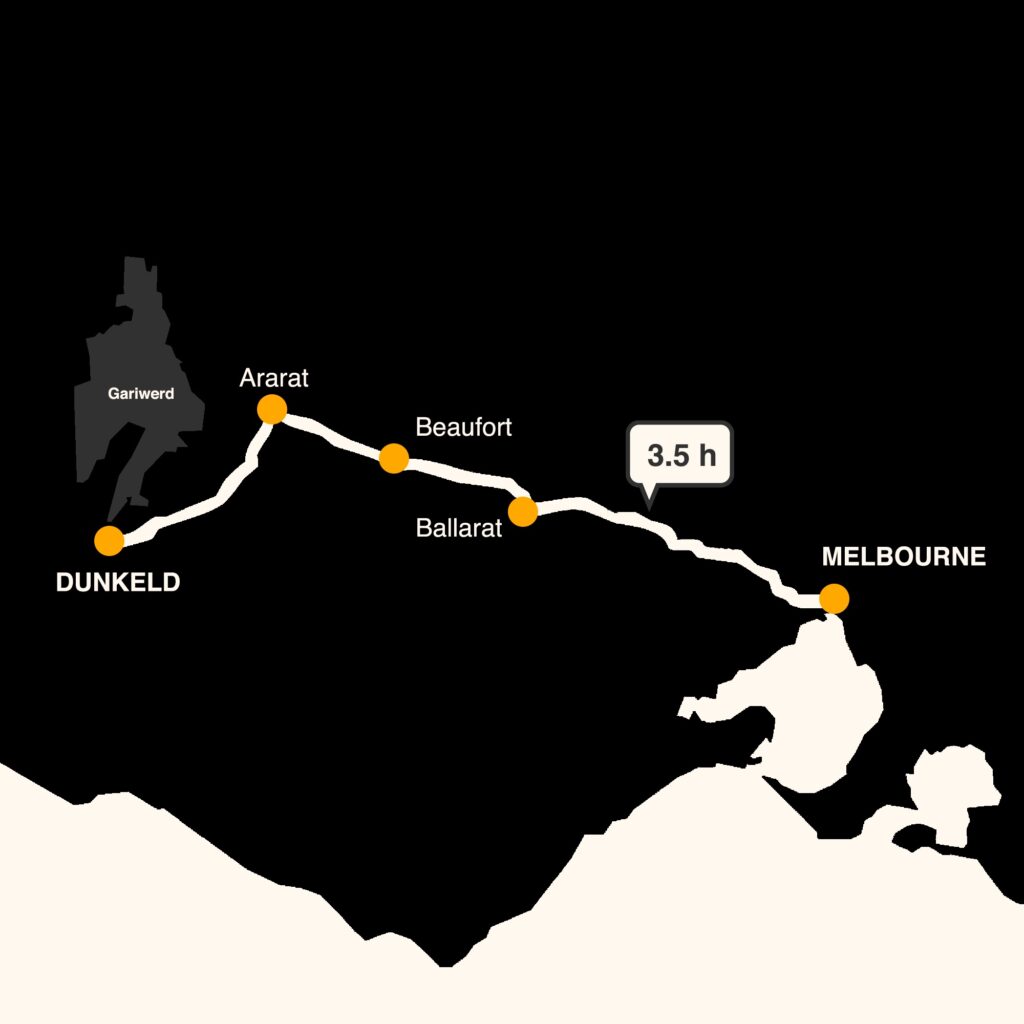 Feeling refreshed? Jump back in the car and follow the signs to Beaufort.
If rummaging through second hand, antique "bits-and-bobs", then a visit to the Beaufort's Big Garage Sale will get your imagination going. Did you skip the pizza in Ballarat? Try Pyrenees Pantry for a cosy atmosphere with house-made pastries, salads, Panini's and more.
As you head out of Beaufort, admire the magnificent, steep granite peaks of Langi Ghiran State Park to your right.
Next stop – Ararat. As you roll in, keep your eyes peeled for the Town Hall. This is where the Textile Art Museum Australia (TAMA) is located. With a collection of fibre and textile art dating back to 1970, this art gallery has the most significant display in Australia.
After a quick stop over, it's time to make your way to your final destination – Dunkeld. Follow the signs to Willaura and soon you'll hit the Glenelg Highway.
Watch as the sight of Gariwerd (Grampians) emerges on your right and fills the view of the famous western Victorian landscape . As you approach Dunkeld, the mighty presence of Wurgarri (Mount Sturgeon) and Mud-Dadjug (Mount Abrupt) announce your arrival.
You'll be warmly welcomed by the Royal Mail team, so put your feet up in the Parker Street Project Wine Bar for a well deserved drink and let the festivities begin.