It was a small sip of his father's bottle of Riesling at age 15 that affirmed the direction of Jeffrey Grosset's life. It left him stunned. So began the Grosset story.
The next year Jeffrey enrolled himself into Roseworthy Agricultural College, focusing on agriculture and oenology (the study of wines). Upon completion, Jeffrey started work at Seppelts, before jetting over to Germany to continue to refine his Riesling knowledge. At age 26, Jeffrey was head winemaker and increasingly motivated to start his own label.
In 1981 he purchased an old milk depot in the township of Auburn, Clare Valley and the label Grosset was born.
Now, Grosset has five wineries – Polish Hill, Springvale, Grosset Gaia, Grosset Rockwood and Grosset Adelaide Hills.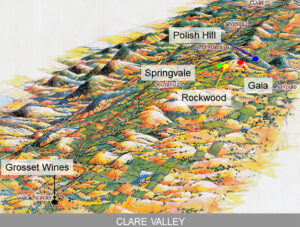 The Clare Valley vineyards are certified 'A-Grade Organic', ensuring long-term viability of the vines and promoting healthy eco-systems. This region experiences cool to cold nights, warm to hot summer days and is located at 400 to 500 meters above sea level. The cool summer nights allow the fruit to ripen evenly, while the dry summers ensure minimal diseases. The soils vary from red to brown grey basement rock.
Jeffrey remains dedicated to producing wine that expresses the variety and terroir, leaving the winemaking process gentle and uncomplicated. Each vine is hand pruned, each grape is handpicked and harvested at optimum ripeness.
Annual production is capped at 11,000 cases, ensuring quality over quantity for every vintage. Riesling makes up 70 per cent of the 11,000 cases.
Accolades and Achievements
In 2017, Grosset made the Wine and Spirits USA 'World's Top 100 Wineries' list. In good company, Grosset was sitting alongside Yalumba, Penfolds, Giant Steps and many more.
That same year, James Halliday awarded Grosset 'Australia's 2018 Best Value Winery'.
2010 marked the 30th consecutive year the 1981 vintages called Polish Hill and Watervale were produced. Wine critic, Robert Parker described the Grosset Polish Hill Riesling as "the finest Riesling I have ever tasted from Australia".
In 1998, Jeffrey was awarded the Australian Winemaker of the Year by Gourmet Traveller Wine and is recognised as Decanter UK's 'Top 10 White Winemakers' and one of the '50 Most Influential Winemakers'.
Trail-blazer
Challenging winemaking traditions and staying ahead of the curb is one of the reasons Jeffrey is a stand-out Australian winemaker.
In the eighties, Jeffrey led the campaign to stop Riesling becoming a generic descriptor for white wine. Riesling was at risk of being used on cheap cask wine labels, which was often made from sultana or Pedro Ximénez. He was successful in his campaign and has continued his work to boost the profile of Riesling in Australia throughout his career.
Jeffrey was also a driving force behind the Clare Valley winemakers making the switch to screwcaps in the year 2000. He continued the campaign and encouraged other Australian and New Zealand winemakers to follow suit. He continues to privately fund research into this subject.
Jeffrey established the Grosset Gaia Fund in 2009. This fund invests in responsible, sustainable organisations with a positive environmental footprint in the youth, arts, research and environmental fields. It has donated money to The Wool, Wine and Wheat Country Education Fund of Australia (Clare Valley region), South Australian Health and Medical Research Institute, Teen Rescue Foundation and University of South Australia.
Within his own business, Jeffrey designed a larger than necessary 500-tonne winery. Climate change and compressed vintages are an increasing threat for winemakers, and this winery has been designed to safeguard from some of these elements.
---
An industry leader from an early age, Jeffrey Grosset has transformed the Australian wine scene and continued to produce stellar wines along the way. We hope you enjoy your Grosset Rieslings in your six pack.