With a wine region as historical as western Victoria's, it's no wonder the Grampians has one of the longest running food and wine festivals in the country – Grampians Grape Escape.
Established in 1992, Grampians Grape Escape barely makes a dint in the history of the old wine region. However, now in it's 26th year, the festival puts on a great celebration of the region's wineries and produce – right at the foot of the grand mountain range.
A Brief History of the Grampians Wine Region
It all began in the 1860's. Thanks to two brothers, Henry and Joseph Best, the Grampians is rich in history, flavour and game changing winemaking techniques.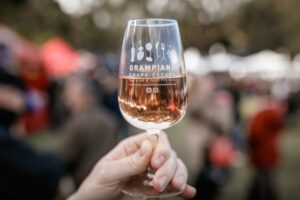 The first vines of the region were planted in 1865 by Joseph Best, at the site now known as Seppelts. Famous for its underground cellar network, Joseph commissioned local gold miners to tunnel out the cellars, 3 kilometres below the surface. Now heritage listed and called The Drives, the labyrinth of cellars has housed wines for maturing since 1868.
Following in his brother's footsteps, Henry planted his own vineyard in 1866 at the site still known as Best's. With up to 40 varieties in what is known as the nursery block, these vines are likely to not exist anywhere else in the world. Europe's vineyards were hit by a pest in the 1800's, wiping out any vines similar to the one's found at Best's.
In 1920, the Thomson family took over Best's after Henry's death. The winery is still family owned and run, keeping the 150-year legacy alive.
Fast forward to the 1960's, when the second wave of vineyards were planted in Victoria. The region welcomed wineries such as, Halls Gap Estate, Montara, Mount Langi Ghiran and Grampians Estate to the winemaking game.
Planted in picturesque spots dotted around the Grampians National Park, these wineries are known for their cool climate wines and a terroir that produces a signature pepperiness.
Try these drops, meet the winemakers and hear their stories at this year's Grampians Grape Escape Festival. They will stand alongside the regions fresh local produce, tasty food vans and live music, making for a cracking day.
Fall in love with the Grampians and all it has to offer!
________________
Grampians Grape Escape Wine Dinner at the Royal Mail Hotel
The Royal Mail Hotel has a unique Grampians Grape Escape dinner on Friday 4th May, showcasing the best of the regions wines from our award-winning cellar. Limited spots available and for one night only, you do not want to miss out!