It's one of the most esteemed wineries in the world, but Château Mouton Rothschild hasn't always been at the top.
In 1853, British-born Nathaniel de Rothschild bought Château Brane-Mouton at auction and added the Rothschild mark to it.
First Growth
Two years later, the Bordeaux Wine Official Classification of 1855 was established. Emperor Napoleon III requested a categorisation system be developed that ranked France's best Bordeaux wines for the rest of the world.
This system, also known as Great Classified Growths (Grand Crus Classés), was to rank the thousands of château's producing wine in the region. To be classified came with great prestige.
Within this list is the category 'First Growth' (Premier Cru) – the best of the best. In 1855 only four vineyards were named, controversially excluding Château Mouton Rothschild. This allegedly happened because the winery was no longer under French ownership.
To this day, the château has remained in the Rothschild family. Succeeding Nathaniel was his great grandson – Philippe de Rothschild. Philippe was responsible for some of the château's most progressive moves in the industry – most notably, lobbying for many years to rightfully gain the château Premier Cru status in 1973.
Furthermore, in 1926 Philippe insisted all of the wine should be bottled onsite at the château, rather than being transported to Bordeaux wine merchants in barrels.
Château Mouton Rothschild Label Artwork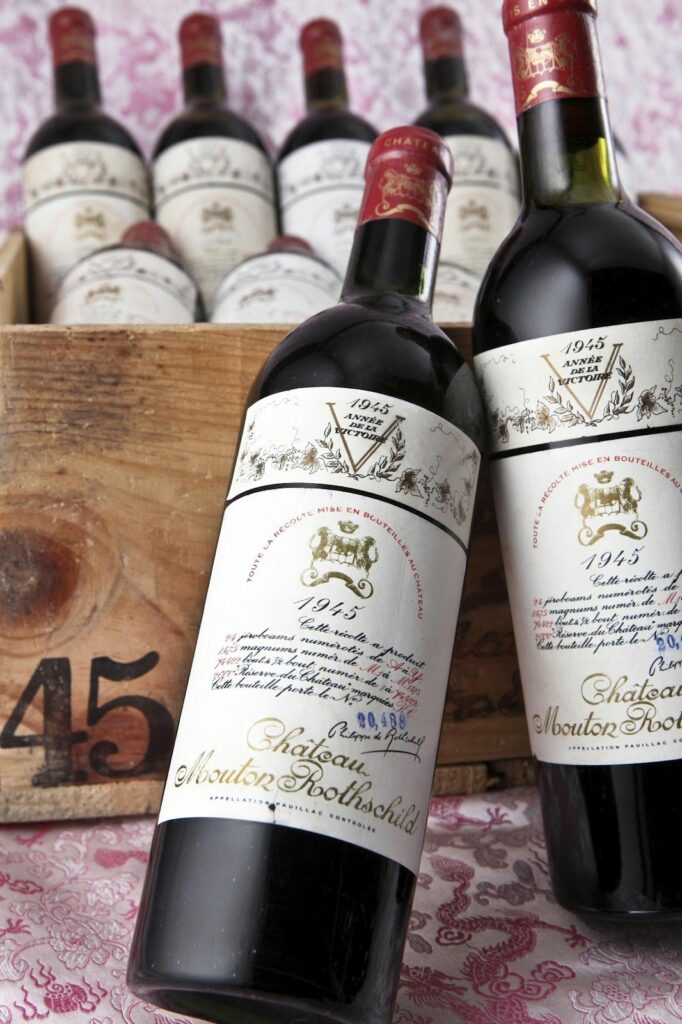 In 1924 Philippe asked Jean Carlu, a French graphic designer, to design the label for the vintage. Although this tradition wasn't completely established for another 21 years, it is now a hallmark of the brand.
To kick off the custom, in 1945 French artist Philippe Julien illustrated the label. He added a V to symbolise the victory of the Allied Forces at the end of WWII. A dozen of these bottles went for US$290,000 in 2006, making Château Mouton Rothschild the world's most expensive wine.
Every vintage since has seen the reinterpretation of the Château Mouton Rothschild label by some of the world's leading artists. Among these include, Salvador Dalí (1958), Pablo Picasso (1973), Andy Warhol (1975), Jeff Koons (2010) and David Hockney (2014). To see all of the labels, click here.
Following Philippe's death in 1988, the history of Château Mouton Rothschild has lived on through his daughter Philippine and her three children, Camille, Philippe and Julien.
Like their father and grandfather, they have continued to push the boundaries and keep Château Mouton Rothschild relevant.
---
The Royal Mail Club will be opening its private collection of Bordeaux wines in late April, including 2009 and 2013 Château Mouton Rothschild.